LinkedIn is the undisputed number one social network for business. Naturally, B2B firms gravitate to the network, and professional services firms consider LinkedIn to be the only real option for social media marketing. But there is a catch…
Effectively Promote Professional Services
Before we dive into this, though, it's important to establish some basics. Clients buy into professional services firms for their people and their expertise. Sharing thought leadership content is one of the most effective ways for professional services firms to present that expertise.
Historically, thought leadership content was shared in the form of industry research papers and articles in business journals, news, and industry publications. Today, the online versions of these channels continue to be important, but social media is just as important, if not more so.
Strategy consulting firms like McKinsey and BCG each have over a million followers on LinkedIn, and share 20 to 50 posts a week, in a variety of content formats, covering topics from industry research and analyst interviews to organisational stats and recruitment. Their followers aren't just employees and job seekers, but also past and current clients, journalists, professors, and heads of industry.
Thought Leaders on LinkedIn
Influencer marketing research undertaken by AccuraCast looked at over 20,000 LinkedIn engagements – likes, comments, shares – and normalised the data by comparing all content to a common baseline of engagements per 1,000 followers.
A steep fall in engagement rates on LinkedIn was seen as an influencer's popularity increases. This means a single, popular thought leader on the network won't be as influential as a number of senior business leaders with a good-sized following.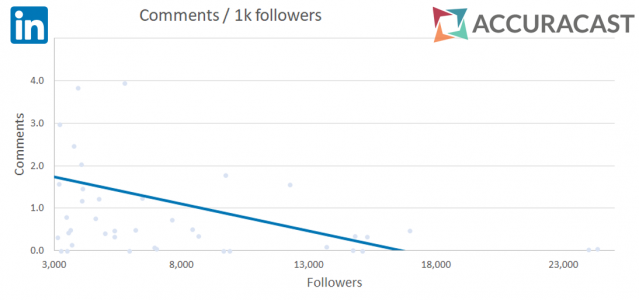 Source: AccuraCast Influencer benchmarking report
Businesses see better results on LinkedIn when content is shared by micro-influencers – multiple influencers with a smaller, but more engaged, following – rather than influencers with hundreds of thousands of followers. In fact, professional services companies on LinkedIn will see the highest return on investment by developing thought leadership and growing influence in-house.
Employee Advocacy on LinkedIn
Research from LinkedIn has shown that employee networks have, on average, 10 times as many connections as a company's Company Page followers. Content shared by employees also tends to have 2 times the CTR of corporate posts, even when it's the exact same content.
If your company has 10,000 followers, based on the above stats that means collectively your employees' networks have around 100,000. Given that a brand post on social media gets around .5% CTR, the company's post to 10,000 followers might generate 50 clicks through. Of your employees' 100,000 followers, 1% will click through, for a total of 1,000.
Most large businesses that have attempted to implement structured employee advocacy programmes will attest to the difficulty of setting up, growing adoption, and monitoring such an initiative. The problem often starts at the top, where senior executives either don't buy in or don't have the time for social media.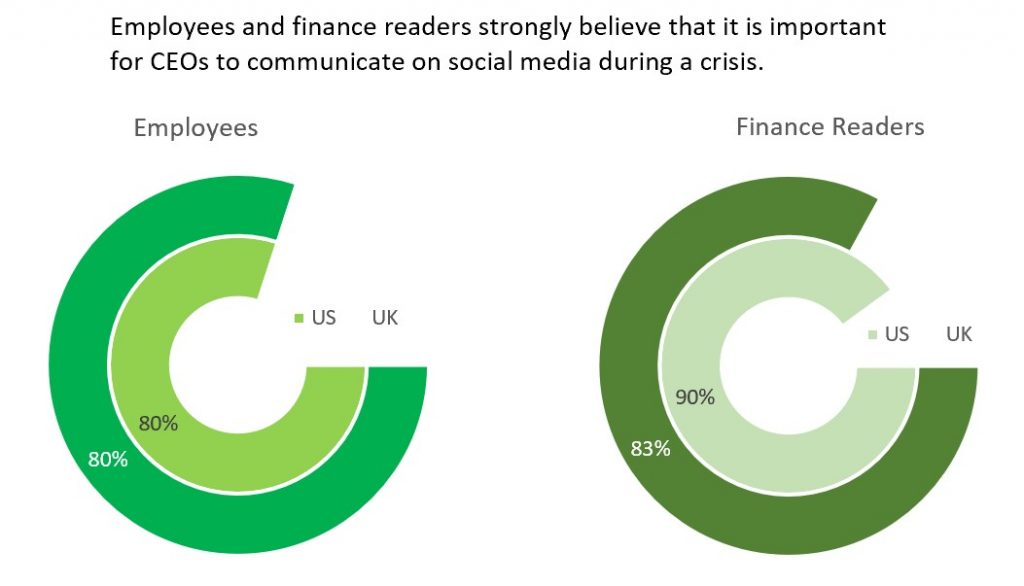 Source: Brunswick Group "Connected Leadership"
A 2015 article on Harvard Business Review highlighted an increased awareness in the C-suite of the importance of social media. While the numbers have grown in the past five years, they aren't quite perfect. Today, nearly 50%, of S&P 500 and FTSE 350 CEOs have a social media presence, and nearly half, 45% of that group are active users of LinkedIn.
CEOs (or managing partners) of far too many professional services firms seem to ignore this trend. While PwC's Bob Mortiz posts almost every week on LinkedIn (full disclosure: PwC is a client), leaders at KPMG, McKinsey and Bain have posted less than 10 times each in the past year!
Businesses should continue to use LinkedIn to reach other businesses through organic content and advertisements. But this should not be the only channel for thought leadership communication. It is even more important to get senior leaders involved, empower them with engaging content, and facilitate sharing this content.
Find out how we can help
Contact us by completing the form alongside and one of our experts will call you to discuss how your business could benefit from our social media thought leadership marketing services.
Grow Your Influence
+44 (0)800 019 6813
hello@growyourinfluence.co.uk